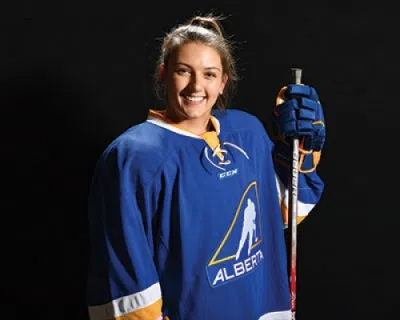 A Fort McMurray hockey player will be suiting up for Team Alberta in the 2019 Canada Winter Games.
Hockey Alberta announced the roster for the U18 female team that will represent the province at the Games in Red Deer on Wednesday – with Lyndsey James being named to the team.
"The 20 girls selected are all individually skilled and driven and we are looking forward to the next step of becoming an Alberta Built team," said Head Coach Carla MacLeod. "To play at the Canada Winter Games in Alberta is an honour that we cannot wait to experience."
James is no stranger to the Winter Games experience. At the 2016 Alberta Winter Games, she notched two goals in four games. She picked up five points at the 2015 Alberta Challenge and netted two goals at the 2014 Alberta Winter Games.
The selection process for this Winter Games team began at a spring training camp in May, followed by a summer camp in July before wrapping up at a fall camp in September.
Team Alberta is coming off a bronze medal finish in women's hockey at the 2015 Canada Winter Games in Prince George, British Columbia.
The Canada Winter Games runs February 15 – March 3.